cake decorating 101, by VZ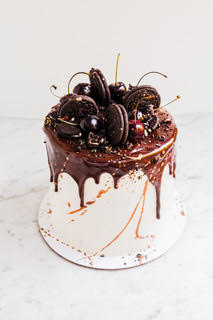 This article was written for yooou! by 17-year-old, VZ.
Here's my cake decorating process! This is what I've found works the best for me after lots of trial and error. Cake decorating can be such a daunting aspect of baking, but it really shouldn't be.
It takes practice, like anything, but it isn't as hard as it may seem. You just have to be patient. Most importantly, have FUN! Baking and decorating cakes is honestly my favorite part of baking!
Okayyyyy! Time to dive into this cake decorating process!
Step 1:
Bake your cake layers.
This is arguably the most important step because without good cake layers, your finished cake will not turn out the way you'd like it to. Baking even, moist and/or fluffy cake layers is a whole other process in itself.
Butter, flour, and add a parchment circle to the cake pans before pouring the batter in. That ensures the cakes won't stick to the pan and your layers won't come out too crumbly.

Find a good cake recipe that works for you (I have a chocolate cake recipe on my blog). This is crucial because in order to have a good cake, you need a good tasting cake…

Level your cake layers with a cake leveler or a knife. This isn't necessary but it helps A TON.

Let your cakes cool completely. That way, the frosting won't melt as you're frosting it and the layers won't slide around.

Start off by only baking and using two or three layers. More layers = more finicky and harder to frost.

I've found that baking my cake layers, leveling them and freezing them ahead of time is the best way to go. Frosting already frozen cake layers makes the whole process run smoother and there's less stress on you because the layers won't slip around.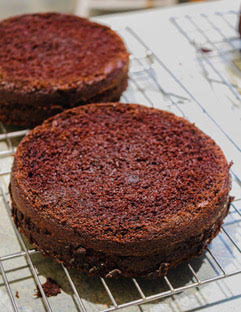 Step 2:
Make your frosting and filling.
Everyone's had a slice of cake with frosting that just wasn't it. Well, your frosting can make or break your cake. (I have a GREAT vanilla buttercream recipe on my blog…) So using a good recipe (hint hint) is super important.
A separated buttercream makes for a not so good finished product. Not only is it ugly, but it'll also have a weird texture when eaten. If your buttercream seems to be separated, try adding some more fat to it; add a tablespoon or two of vegetable shortening. That should do the trick! 🙂

Frosting that's too sweet won't make the cake eater want to finish the piece of cake. Frosting that's too buttery will make it feel like you're just eating plain butter.

Room temperature frosting is the way to go. If you're using frosting that's been frozen or that's been sitting in the fridge, you're going to want to let it sit out for a few hours before in order to get to room temp.

Remove air bubbles from your done frosting by mixing on low speed with a stand mixer. Or, use a rubber spatula to fold the bubbles out.

When trying a filling for the first time, be sure to not add too much. That's a very common mistake that causes the layers to slide all over.
Step 3:
Stack your layers!
This is a pretty simple step, but it's also the step that causes the most stress.
Be patient. Whatever you do, don't rush this step.

Slipping cake layers? Add a wooden dowel or some sort of straw into the middle of the layers to hold them up.

Apply an even amount of frosting (and/or filling) between each layer. If I'm just doing frosting in the middle, I add 2-3 scoops of buttercream with a 3 oz cookie scoop.

If you're doing a filling, pipe a border of frosting around the edge, add the filling and then put the cake layer on. This makes sure no filling will leak onto the outside of your cake.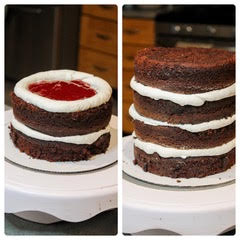 Step 4:
Crumb Coatttttt!!
This step is SO important. A good crumb coat will keep all the crumbs in which means the final coat of your cake will be crumbless and stunning.
Apply an even layer of frosting over the entire cake. This can be tricky if your cake isn't stable so be careful. The goal of this is to trap all the crumbs in.

Immediately after, put your cake in the freezer (you can use the fridge instead, I just prefer the freezer) to chill for 10ish minutes. This step helps the stability of your cake by a significant amount, so DO NOT SKIP!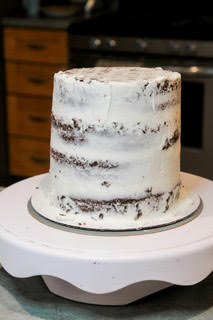 Step 5:
Final Coat.
This is the step that gives you the gorgeous blank canvas of a cake. If you do it right, you can get phenomenal edges around the top and a clean finish
Don't rush this step either. A good finish takes time.

Keep adding little bits of frosting to spots that aren't covered as well and use your cake scraper to even it out.

Use a cake scraper often. Running the cake scraper under hot water right before you go in for your last three scrapes will tremendously help smooth the frosting out.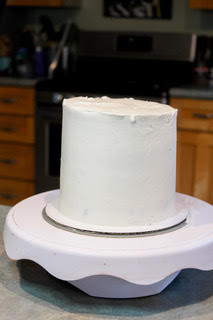 Step 6:
Toppings!!!!
Topping cakes is my favorite part of the whole process. I just love how everything comes together depending on what you use to top it!
Adding fresh fruit on top is my favorite way to top cakes. Think raspberries, cherries, blackberries, strawberries…

Other toppers that I love: meringue cookies, caramel corn, dried citrus wheels, candied/dried fruits, Oreos, candy bar pieces, nuts, macarons, chocolate chunks/curls…
Tips for my drips:
Start with a 1:1 ratio of chocolate chips (semi sweet, or candy melts) and heavy cream. I tend to use 1/3 cup of both.

Microwave for 30 seconds to begin and then stir. Microwave in increments of 10 or 20 seconds and stir after each.

If the drip looks too thin, add more chocolate chips. If it looks too thick, add more heavy cream.

Once you think your drip is ready, test it on a cup!

I pour my drip on top and then use an offset spatula to drip it off the sides. That gives the cake a drip with less symmetry.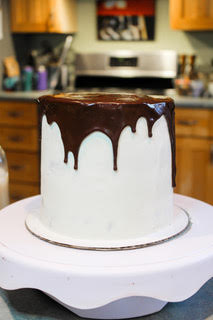 That's it!
Once you've done all of that, you're ready to enjoy your stunning cake!
If you're hoping to assemble, decorate and then freeze your cake ahead of time, I'd recommend putting it in the freezer until all the decor and final coat of frosting is set and won't get damaged if you touch it. (30 mins ish)
Then, wrap the whole thing in plastic wrap (make sure every part of it is covered) and put it back in the freezer until it's time to enjoy it.
Be sure to take it out a few hours in advance and expect it to sweat as it thaws.
A few of my favorite drip cakes that I've done this past year: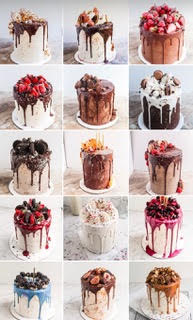 For more deliciousness, go to Violet's website. Click here for a fun cupcake recipe in our Stories on Instagram.