clear the clutter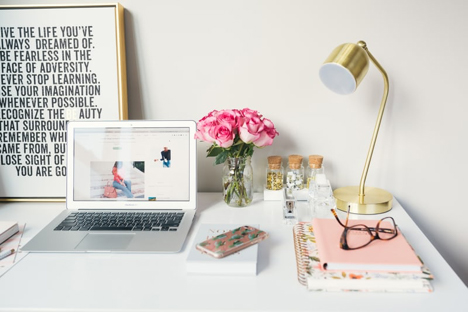 Creating a special work space increases focus and productivity which can mean less time doing homework! Doesn't that sound great?! So, declutter your desk, add some creative inspiration and have a less stressful study session. Happy Back to School!
Don't cope with the clutter, clear it! Stacks of books and papers make a desk look messy and take up space. Throwing away unneeded items is the easiest way to start decluttering. Pick up a cute trashcan (Amazon, $12.99) and use it! Store necessary papers and notebooks neatly on a shelf or in cute bins (Container Store, $3.99). Put your pens, pencils and paper clips in acrylic containers (Container Store, $19.99). This dish (Anthropologie, $12.00) is a perfect spot to keep knick knacks. You won't miss the mess!
Get inspired for that 5 paragraph essay! Add creative inspiration to your sparkling space. A sketchbook with a decorative cover (Amazon, $3.99) will help organize your thoughts. Colored pens and pencils can make your notes look like a work of art. And speaking of art, add a framed print or original piece from Corinne Bizzle to your workspace. Writer's block, beware!
Don't stress! To feel positively zen-like, add a scented candle (Anthropologie,$12.99). Lighting is also an important element in calming your senses. Lamps with dimmer switches can help "lighten" your mood. Lastly, listening to music can create a relaxing atmosphere. Listen to a yooou.life playlist on Spotify.