how our view of science, technology, engineering and math (STEM) has changed in high school, by AS and RG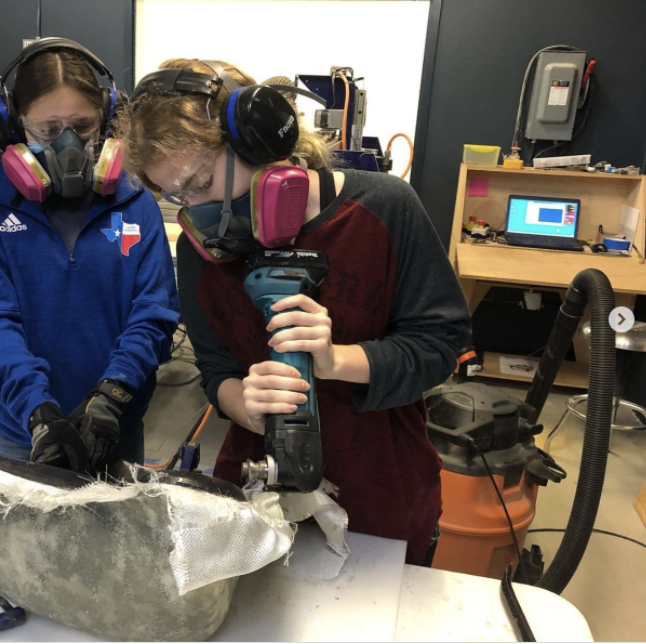 This article was written for yooou! by 16-year-old, AS and 15-year-old, RG.
Amelia and Rivers are two sophomores on Parish Episcopal School's high school Rover team, they met through robotics and soccer in middle school. Currently, they work alongside each other on the wheels and seats subgroup, and still play varsity soccer together.
Joining Rover was originally not planned, but thanks to encouragement from family and Parish staff, the once ambiguous engineering team helped change the way they view Science, Technology, Engineering and Math (STEM).
Despite how intimidating Rover was, by taking the leap and trying something new, Rover has now helped them gain confidence and develop long-lasting friendships with people they wouldn't have met without Rover. Rover has also taught them that STEM isn't exclusively for the smart or mechanically inclined, but rather anyone who wishes to put themselves out there and try something new.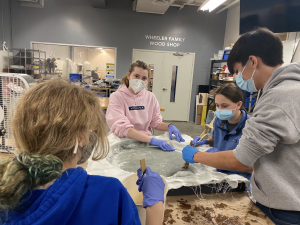 Rivers:
Growing up, I had little to no interest in anything STEM (science, technology, engineering and math) related. I was the quiet kid in the corner always reading, my obsession with literature got me in a lot of trouble at school, ten year old me would rather read than do homework or listen to boring lectures. My parents desperately tried to get me to entertain other interests, whether it was sports, art, or even video games, but I refused every activity thrown my way.
That is, until I was signed up for FIRST LEGO™ League (FLL) Robotics during my first year at Parish. Programming and building little robots provided me the opportunity to develop my organizational and leadership skills. I easily managed my team as I maintained the job of documentation, problem solving, and creating a project for us to present at the competition in December. Near the end of my time with robotics my teacher recommended I look into joining Rover for high school.
Initially, Rover was overwhelming, and different from FLL robotics. The space, people, and responsibilities were all new to me, not to mention how everyone else always knew exactly what to do and how to do it.
My confusion was recognized among the upperclassmen, and I was quickly taken under their wing. Two girls in particular, Chloe and Ella* both welcomed me with open arms, they taught me how to use a pantorouter (a special tool used to cut mortise and tenon joints in wood), a hole saw, and always made sure I never injured myself in the wood shop.
Soon, they became life coaches, I was and still am regularly coached by them about staying caught up in school and keeping up with my mental health. I was never judged for struggling to navigate a new space, but rather guided and encouraged to try new things.
Overall, Rover helped me mature and progress beyond middle school. The busy environment oftentimes felt stressful, but as I adjusted, it proved to be more intellectually challenging than scary or nerve-racking.
Amelia:
My first real exposure to engineering was when I joined my school's robotics team, in 6th grade. I formed a team with 3 other girls and went to work building and programming a robot to do tasks. I definitely excelled at the strategy part of the competition, as I am a very organized person and like to have a well thought out plan.
On my 6th grade team, the team was structured by our coach. However, when I returned in 8th grade, I got the chance to lead my team. From the beginning our team was well organized and always had a plan. However, this was not always the case, as the competition got closer the more mayhem ensued.
Robotics taught me to be more flexible and open to others ideas.
In my freshman year of high school, I decided to join the Rover Team. I had my eyes set on being on the Rover team since 5th grade. In 5th grade, I was a part of the math club where I met a high schooler who was on the Rover team. I instantly was fascinated by what she was able to do and build.
When I joined Rover, my freshman year, it was a whole new experience. I had no idea what to do and for the most part just followed around older members of the team pitching in here and there as I could. As the year went on, I learned more of how things were run and gained confidence.
The first year of Rover was definitely overwhelming. Just getting adjusted to high school is hard enough as it is, but then with all the components and moving parts of Rover, some days I would come home with my head spinning.
But something started to happen, as I got more involved and acclimated to the pace of high school and the team, I began to find my place on this extraordinary team. Seeing a group of students with diverse interests and ages come together to design and build two functional rovers from the ground up in under a school year, was just incredible.
It was an easy decision when school rolled around again to join Rover for another year. This year, I knew more and more was expected of me. It did take me awhile to get back into the rhythms of school and Rover, after a spring of online school because of the pandemic, but I was excited about what was to come.
The biggest challenge, so far, this year has been realizing that I can't just follow the older members. I have the opportunity and knowledge to take the reins and help lead my group. In just two years Rover has taught me so many valuable lessons. I had to learn to speak up for myself and communicate in a manner that would get the point across but I also had to listen and value others' opinions.
I had to keep a very organized schedule because as a varsity soccer player, a member of the Rover team, and school work, I was always busy.
Choosing to participate in STEM classes or teams can be daunting, especially as a young girl in a male dominated area. Joining a team like Rover has taught us that regardless of age, gender, or hobbies, everyone has their role and not everyone has to be a genius.
We all bring something unique to the table. There are a handful of athletes, artists, and musicians, all connected by their desire to try something new and build something together.
About the Rover Challenge: Every year in Huntsville, Alabama NASA holds the Human Exploration Rover Challenge, also known as HERC. 100 different high schools and colleges from around the world compete against one another on human-powered vehicles designed and made by students. These teams must cross extreme terrains that replicate obstacles one would encounter on different planets, such as high buttes, sand dunes, undulating terrain, ice geysers, craters, etc. Additionally, excursion tasks similar to those conducted by the Apollo astronauts are completed along the way. Rovers must finish the course within 8 minutes.
Parish Episcopal School (Dallas, TX) is home to the only high school Rover team in Texas. In 2019, Parish Episcopal School was a recipient of the AIAA Neil Armstrong Best Design Award, Team Spirit Award, and AIAA Best Report Award. The 2020 HERC in-person competition was preempted due to COVID, however we still received the AIAA Best Report Award.
*real names were not used