make a Spring candy board this weekend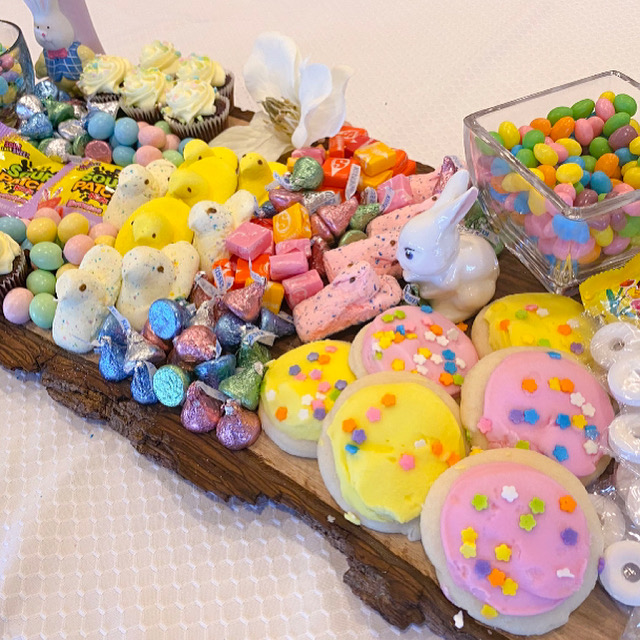 Candy, Cookies and Cupcakes, oh my!
We have a super fun activity for you to do with your family or friends this weekend. Put together a Spring (or Easter) candy board. It's so easy.
Ironically, we have done several posts lately about having a healthy lifestyle and while we don't believe you should have this much sugar normally, we do believe that a little splurge every once in a while is good for your soul.
Putting this board together made us laugh, "debate" what candy went where and when we were finished, we welcomed all the compliments we were given (even if they were from family members who were just being nice so they could have first dibs at the board! ha).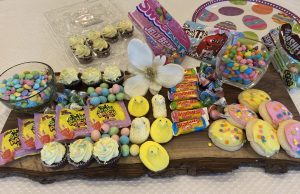 What You Need:
CANDY. Any kind of candy works! We used a lot of pastel-colored candy – Starburst, Hershey Kisses, Sweet Tart jelly beans, Peeps marshmallow ducks, M&Ms, chocolate covered eggs as well as some family favorites – Lifesaver mints, Sour Patch Kids, Reese's peanut butter eggs.
A BASE. Again, any kind of board or tray works. This could be a plate, a cutting board, a themed tray – you get the idea. We started with a cute round Easter-themed tray but it wasn't big enough for all that we wanted to put on our board.
EXTRAS: Add in cookies or cupcakes. We did both because those frosted cookies are the yummiest AND someone in our family wanted cupcakes too. Also, find some cute additions to fill up the board. We played with clear bowls, ceramic bunnies, plastic Easter-basket "grass" and flowers.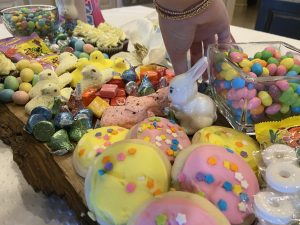 How To Make Your Board:
This is the easiest part. Just start putting everything on your base. Your goal should be to cover it entirely. Play with how the different sized items fit together. We moved it around several times.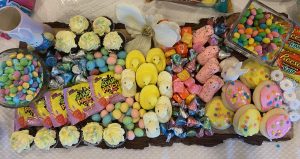 What To Do When You Are Finished:
Stand back and admire how cute your candy board is. Don't forget to take a picture! And then dig in! Oh, and then you may have to go run a mile! Happy Spring.
Click here to if you prefer more nutritious snacks. 🙂