my journey with acne, by JT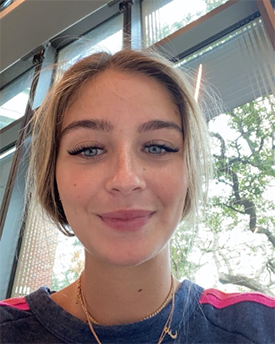 This article is written for yooou! by 19-year old, JT. She is currently a freshman at Tulane University in New Orleans.
I had just begun my freshman year of high school, and everything was going smoothly. I had a solid friend group (so I thought), I made the volleyball travel team, and I was making straight As. Suddenly, my face started to break out. At first, it wasn't a big deal, and my mom just bought me a new face wash and some zit cream. Progressively my acne got worse, to the point where I couldn't cover it up with the just concealer I had. My self-confidence took a hard hit. I didn't want to go to school anymore because I was so embarrassed about the way I looked – I thought, 'surely people won't be friends with me if I look like this.'
I remember being in the dermatologist's office almost every weekend, trying to find some sort of solution. At first, we agreed to a holistic approach. I cut out dairy, mango, sugar, red meat, and anything else that had any connection to causing acne – still, my acne was getting worse. After a few rough months, my mother finally said I needed to go on Accutane, which is a medication that dries up the oils in your pores and leaves you with "perfect skin." After a week or so of being on the six-month course, I could already feel the side effects, dry skin, back pain, and even depression. I have always had good mental health, but the combination of Accutane and the way my acne hurt my self-esteem sent me into a sadness that I don't want anyone to ever experience. It was difficult for my "friends" to understand what was going on in my life, and consequently, they didn't want to be friends with someone who was extremely sensitive and always down. So at this point, I was depressed, I had no friends, and I felt like the world was going to end. But one day, I reached out to a girl in my history class, and I asked her to hang out because she seemed nice. I am forever in debt to this girl, Olivia, for helping me get through a rough time and also for teaching me that I don't need a "friend group," I only need one loyal ride or die, friend. 
I deleted most of the acne pictures because I wanted to erase that part of my life. I now understand that having severe acne made me stronger as a person and forced me to question the friendships I had at the time. If your friends don't support you in your worst times, they aren't friends worth keeping. Here are a few pictures I have recovered…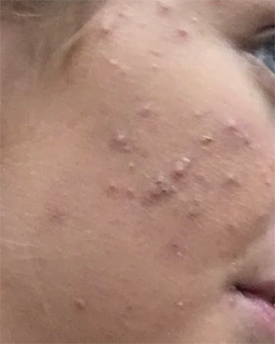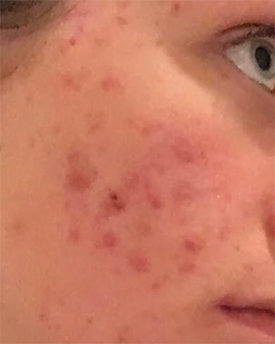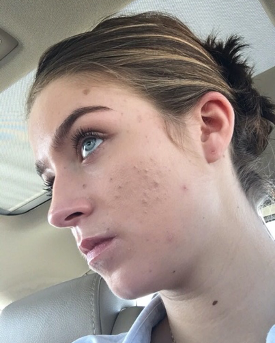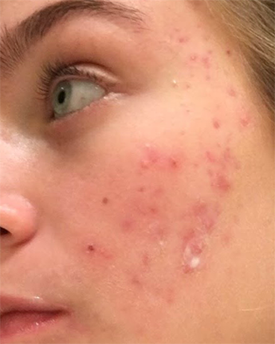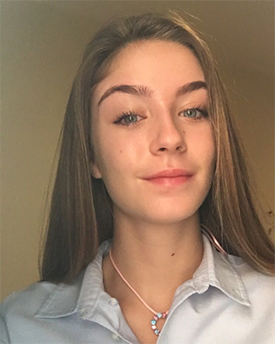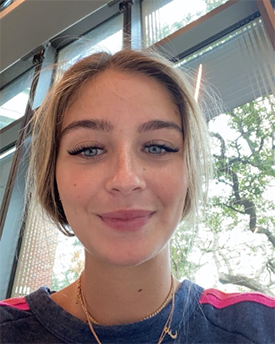 Wearing makeup and just started Accutane 

No makeup 2 months on Accutane 

Makeup 2 months on Accutane 

No makeup 4 months on Accutane 

Makeup after I finished Accutane  

No makeup studying during my freshman year of college
After I met Olivia, everything started to look up. My skin was getting better by the day as the Accutane did its job. My self-confidence was improving little by little. Before I had acne, I had never really worn makeup before. Makeup was a way for me to feel confident at school, and it made me feel like people saw me instead of my acne. After I finished the six-month accurate course in June, there was not a pimple in sight! I felt like a completely different person. Reflecting on my acne journey, I realize that even during the difficult times, I still had lots of things going for me and things to be thankful for. I was making good grades, I had Olivia, and I had a loving and supportive family that would have taken my place if they could. I know it sounds cliche, but beauty is truly only skin deep – and you are the person you are because of what's inside and not what's on the outside. The moral of the story in all of this is 1. Make meaningful friendships 2. Be an advocate for your skincare needs and do your own research (with the help of a trusted guardian) 3. And finally, remember that whatever trials and tribulations take hold of you in your teens, they won't last forever – so stay positive! 
All of this skin drama really made me a skincare and makeup junkie! Tomorrow, I will be posting all of my favorite skincare and make up products.
My Instagram @justine.todd. Feel free to DM me if you have any questions/if you just want to talk!