peace, health, happiness & yoga, by LT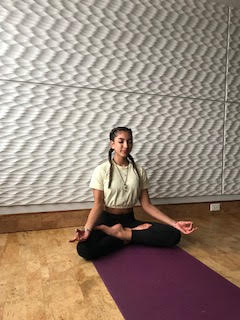 This article is written for yooou! by 16-year-old, LT.
My name is Layla, aka LaylaTheYogi on Youtube. I have been a synchronized swimmer, a kickboxer, a dancer, a soccer player and more but the one thing that remained constant in my life was YOGA. My practice has never failed me and continues to grow on and beyond the mat. Since I was eight years old I've been practicing Yoga and have not stopped since and am now a Yoga Teacher in Training.
Would you trust a teenager to give you the best yoga or meditation class?  Probably not, but you'd be pretty surprised at what I've learnt and experienced throughout my 16 years, time in high school and from my fitness and yoga journey.
When I entered high school I did not expect to experience post breakup depression, addiction, losing my health, true self and being around the wrong crowd. We had valued being, looking and doing everything perfectly and to seem as "normal" or popular as possible. In this pursuit, I lost sight of who I truly was and what really made me HAPPY inside!
2020 has brought many challenges and has made our #teenmentalhealth crisis larger. Which is why I created my youtube and meditation classes during covid. I got SO MANY responses from TEENS and friends saying that they had struggled with their mental health in silence and that my Yoga channel and Health and Fitness story had inspired them and they are now doing meditation and yoga as much as possible to relieve stress and bring them back to being their real, most motivated and healthiest selves!
Don't be afraid to reach out and bring forth the talents, health and mental joy that is WITHIN You!! Who cares what other people think, start becoming your very best self and NEVER LOOK BACK! You can be the change you want to see in your life. You are unique. You are a strong and have a purpose that no one else has!
As always, peace, health and happiness!
To follow Layla, go to her Instagram account @laylatheteenyogi.
To get a breathing technique to use during stressful times, read her post on our Instagram @yooou.life.