top 5 ways to be a more confident teen
This article was written for yooou! by Keisha Montfleury, the founder of HandiWork LLC.
Top 5 ways to be a more CONFIDENT teen:
Make sure that you are doing things to explore the things that you like. What are some of your hobbies, skills, and talents that you can practice and share with others? If you like to draw or do art ask your parents to purchase a sketch book; if you are into photography you can take a class to get more skills about it; do you like to write? You can use an old note book or purchase one from some place like the local dollar store.
You want to make sure that you are practicing self-care. This comes in a variety of ways but can be as easy as doing things that will help you settle your mind. Do you like doing puzzles, coloring, or reading? Do you love to pamper yourself? You can make your own DIY face mask and have a spa night with some friends or even just yourself.
Another way to make sure that you are in the space of healthy confidence is to make sure that you are exercising your body. You do not need a gym membership for this. You can easily do things like roller skating with friends, going for a bike ride, taking a small hike. There are so many things you can do to stay active.
Be mindful with the things that you eat. It is another way to care for yourself. Challenge yourself to try new foods. What about the foods that you do like, what are some things that you like about them? Can you change some things in the recipe? Does that certain dish remind you of something or someone?
Last but not least INVESTING in yourself is super important. This can come in a variety of ways, like giving back to your community, spending time with family and friends that you care about, and making time for yourself.
I hope that these tips are valuable to you, and give yourself the opportunity to grow in a healthy way this new year.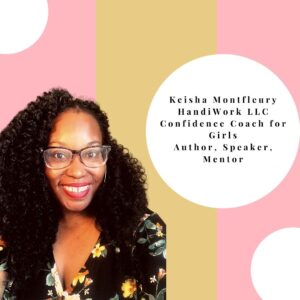 My name is Keisha Montfleury and I am the founder of HandiWork LLC.
We specialize in personal development programs that supports our girls in having healthy confidence so she is not giving into negative behavior such as self-harm and bullying. We do this by hosting interactive workshops and providing merchandise that gives our girls the tools to practice these skills.
You can check me out on Instagram and Facebook @confidentkeisha or on my website: www.keishamontfleury.com