welcome to superhero school
We are so excited to introduce you to 17 year old author, Gracie Dix. Today is the launch of her debut novel, Welcome to Superhero School.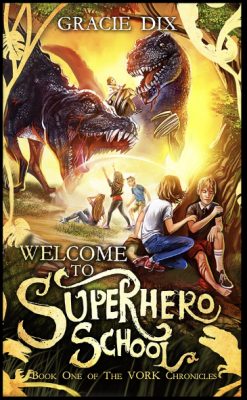 Gracie's book, Welcome to Superhero School follows Oliver, Jess, and all their friends on a mission to destroy the power-hungry, evil villains of Vork. From subterranean sewers to lush jungle, from dinosaurs to dragons, the heroes are pushed to their limits in ways they'd never imagined. Will their collective Powers—Flight, Morphing, Invisibility, Mind Reading, and more—be enough for them to overcome the malevolence of Vork? Or will they stumble over their own doubts and painful histories? This action-packed journey of friendship, hardship, and humor will take our heroes to thrilling new heights and a deeper understanding of their own place in the world. But will that be enough—or will Vork always be one step ahead?
We were lucky enough to get some time with Gracie to ask her some questions about the book, her sweet dogs and her tips for writing school essays and papers.
Why did you decide to write a book?
I thought it would be fun! I love to write and I wanted to get my work out there. It ended up being a lot more work than I expected, but it was worth it!
Who should read this book?
Welcome to Superhero School is for everyone! It's written for middle graders – teens and tweens will love it! But anyone who loves action and fantasy novels with superheroes should give it a try!
What challenges did you face while writing Welcome to Superhero School?
It was a challenge to find time to write while focusing on my classes and getting homework done.
Do you have a quote or saying or thing that inspires you?
"A stranger is just a potential friend you haven't met yet".
Can you tell us a little about yourself? What do you like to do when you are not writing novels?
I like to watch TV and YouTube. I love to read and to play with my sweet puppies. I love to sing and I am involved in the theater at my school.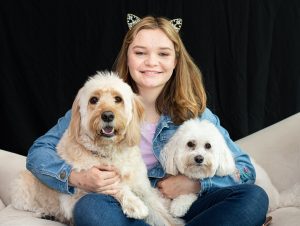 We noticed that you post pictures with the cutest dogs on your IG account (@gracie.dix.author). Tell us who they are! 
Thank you! Snowball is a maltipoo. He is an old boy with a young heart. As lazy as he can be, he loves to play with Sandy, our goldendoodle. She has lots of energy! Both Sandy and Snowball like to snuggle with me! Fun fact – Snowball has a cameo role in Welcome to Superhero School!
Do you have any tips on writing essays or papers for school?
Follow the format and do your best. The first draft isn't the final. I've learned through writing how important it is to edit. As long as you do your best, you can be proud of your work. Don't be too hard on yourself and don't be afraid to ask for help.
Last question…if you had a superpower, what would it be?
There are so many good ones – my answer is always changing! Today I will say Flight because it would be cool to fly. I also say that ADHD is my superpower. Embrace you differences and be proud of who you are!
Thank you Gracie! Good luck with the launch. We will check back in soon!
Follow Gracie @Gracie.dix.author. You can buy Welcome to Superhero School here.