if you like working with animals you should consider this camp, by KB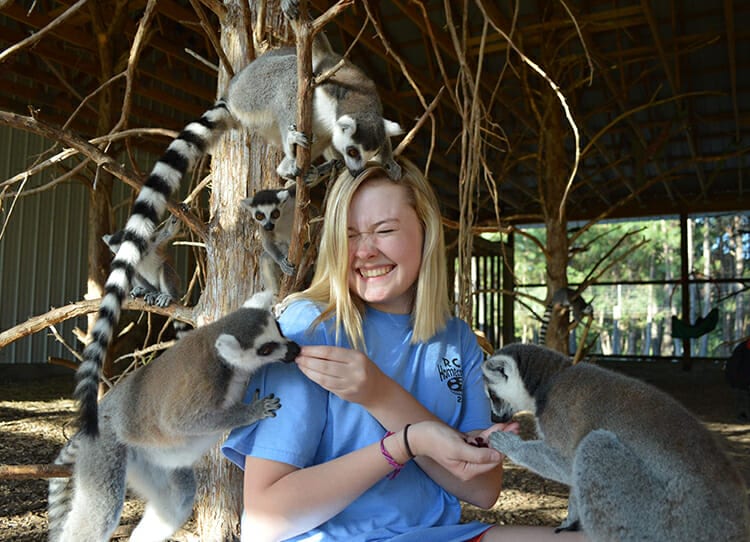 This article was written for yooou! by 16-year-old intern, KB.
Overnight camps are a pretty easy way to waste a week or two during the summer. I look forward to them every year. Specifically, one called Cub Creek Science Camp, or CCSC for short.
Located in Rolla, Missouri, CCSC is an animal/science camp aimed towards kids ages seven through seventeen.
In fact, I attended the camp from June 26th to July 3rd, or session five. However, I did not attend as a camper but as an ASIT.
ASIT stands for Animal Specialist in Training. Trust me, it's not as fancy as it sounds.
The ASITs are required to get to camp a day early to assist with check-in the next day. For my session, I was stationed with two miniature ponies named Artemis and Tuck. My only job was to smile and wave at the passing cars. It was easy, and I got to wave at my mom and brother as they drove into camp.
Then, the real work begins.
Our day starts at 6:15, and the ASITs are required to be out of the cabin by 6:40. Considering there were 16 girl ASITs, that is not a lot of time, but we made it work.
Every morning, we have morning rounds. A small handful of people are assigned to a small part of the animal area, where the camp's animals are held. I was chosen for Jungle, and my main job was spot cleaning. Basically, I had to pick up poop only 30 minutes after I woke up. It was worth it, though, since I got to say good morning to the lemurs and Squillium (the baby porcupine).
Rounds were usually finished by 8:30, and breakfast started at 8:00. Needless to say, we were always late for breakfast.
After eating, the ASITs would have to help the campers get signed up for the day's classes and courses. The ASITs would then have to help the counselors lead said classes and courses, but we never did much.
Freetime comes after the first two courses. The campers' free time, that is. The ASITs are in charge of an area during their free time, and I was put in charge of keeping track of the locations of all the campers. Yes, it is as tiring as it sounds. I had to deal with lots of crying campers, but I got through it.
After their free time is lunch, then the ASITs' free time. There weren't very many places we could go, so we usually stayed in the ASIT lounge. Afterward, the last two classes/courses. They're pretty straightforward. Then, dinner.
Finally, the day is over.
Every person is required to shower in the evening, and with 16 girls, that usually took a good two hours. Then, it's time to sleep. The ASITs usually ended up going to bed between 12:00 and 1:00.
And rinse and repeat. Of course, being an ASIT has its perks.
For one, you're allowed to yell at campers. For example, you're allowed to yell at them to walk instead of run or shout if they're breaking any rules.
Also, you're allowed to have your phone, which is what sold me on becoming an ASIT. You can't play on it while campers are around, but it feels comforting knowing you have it with you. You also don't need permission from anyone to go into an animal enclosure. I did this a lot with Stu the emu (he's my favorite).
That's pretty much the full day of an ASIT at CCSC. It is as exhausting as it sounds, but I am definitely going again next year. Sadly, next year will be my last year, so I'll have to make it count.
I highly recommend this camp for anyone interested in veterinary care, or anyone who loves animals in general. A solid 10/10 in my book.
If you would like to know more about Cub Creek Science Camp, click here. To read another article written by KB, click here.