kale peanut salad recipe, by "the kitchen twins"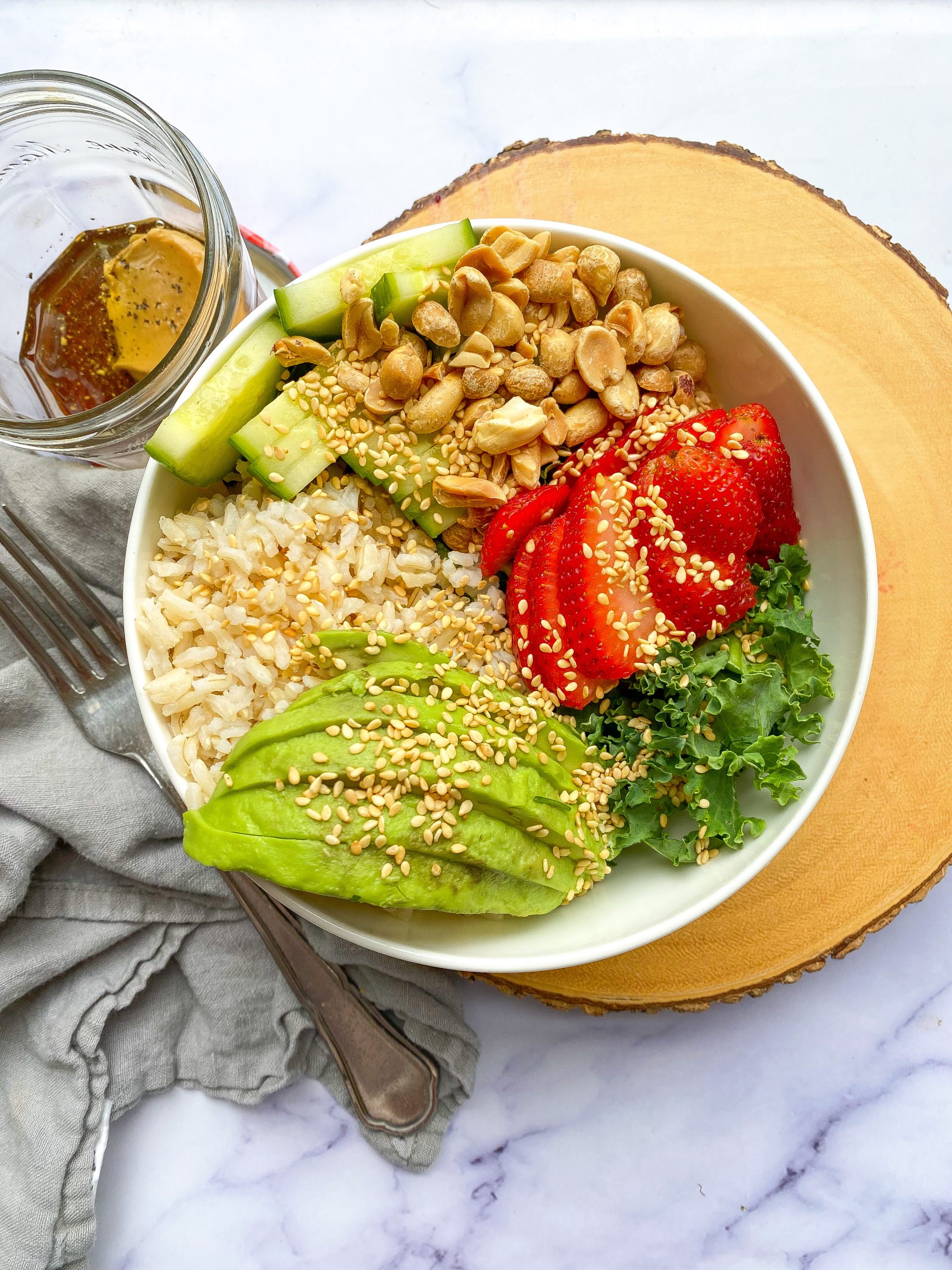 This article was written for yooou! by The Kitchen Twins.
This salad is heavenly, filling, and so tasty you will DEFINITELY be going back to make more! We think right now is a great time to be cooking your own meals and learning what goes into your food! The Kale Peanut Salad is perfect for that because all of the ingredients are whole and good for you. Plus, there are nutrients loaded into it! It does not take long to make and it is great as a dinner side or for lunch! We might even be eating it for breakfast it's that good…
Serves 1
What You'll Need
For the salad:
2 cups finely chopped kale
2/3 cup cooked brown rice
1/3 cup strawberries
1/4 an avocado
1/4 cup lightly chopped, roasted peanuts
2 teaspoons sesame seeds
For the dressing:
3 tablespoons olive oil
1 tablespoon apple cider vinegar
1 tablespoon peanut butter
1 tablespoon soy sauce
2 teaspoon sweetener (like blue agave syrup, honey, or maple syrup)
1/4 teaspoon salt
a few cranks of pepper
To Make
In a bowl, toss the kale with the brown rice. Wash and slice the strawberries up – we think smaller slices are better because you get plenty of flavor while getting it in more bites. Then slice up the avocado and layer that on top. You can be like us and set up your bowl all pretty! Add the peanuts and sesame seeds as well. For the dressing, combine all ingredients in a jar and shake them up. You may have to do this for a minute or two because the peanut butter will have to be well combined, but it is worth it and a little extra workout! Pour it over the salad, mix, and enjoy!
Click here for more recipes from The Kitchen Twins.