3 of my favorite books this summer, by Sienna says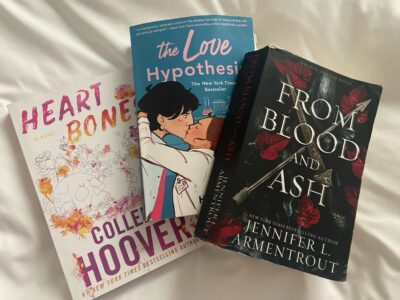 I have been a reader for as long as I can remember.
I've always loved reading, and one of my favorite memories from when I was little is the first time I spelled out "caterpillar" while reading one night with my dad.
This summer I have had time to read. I especially love to read while tanning because I find it too frustrating to try and see my phone in the sun.
Since I have read so much this summer I figured I might as well tell ya'll about my three favorite books from this summer. You are going to have to read them!
Fair warning: they're basically all romance.
The first book is Heartbones by Colleen Hoover.
Heartbones is about a girl who grew up with her drug-addicted mother in a trailerpark. Her father was out of the picture, but when her mom passes away, she has to go spend the summer with him and his new family. She sees all of the differences in their livestyles and despises them for it.
Then, she meets a mysterious boy with whom she shares an "intense connection" with. Colleen Hoover's words, not mine.
Anyway, turns out this boy is her father's neighbor and happens to be one of her step-sister's best friends. So, they spend a bunch of time together and decide to have a meaningless summer fling.
But there are some insane plot twists that I just didn't expect. It's really good and I highly recommend.
The second book is The Love Hypothesis by Ali Hazelwood.
This book is about a PhD student that ends up fake dating her professor to prove to her best friend that she has moved on from a boy that the friend likes. Obviously, the professor and the student find themselves seriously attracted to each other and the fake dating trope presents itself.
This book is definitely five-stars with incredible writing and a great plot.
The third book is obviously going to be from my favorite series, From Blood and Ash by Jennifer L. Armentrout.
I already wrote about this series (click here to read) but they are by far the best books that I have ever read and I'm completely obsessed with Armentrout's writing. It is a fantasy book so the plot is pretty hard to describe, so I'm just going to use the back of the book…
"A Maiden…
Chosen from birth to usher in a new era, Poppy's life has never been her own. The life of the Maiden is solitary. Never to be touched. Never to be looked upon. Never to be spoken to. Never to experience pleasure. Waiting for the day of her Ascension, she would rather be with the guards, fighting back the evil that took her family, than preparing to be found worthy by the gods. But the choice has never been hers.
A Duty…
The entire kingdom's future rests on Poppy's shoulders, something she's not even quite sure she wants for herself. Because a Maiden has a heart. And a soul. And longing. And when Hawke, a golden-eyed guard honor bound to ensure her Ascension, enters her life, destiny and duty become tangled with desire and need. He incites her anger, makes her question everything she believes in, and tempts her with the forbidden.
A Kingdom…
Forsaken by the gods and feared by mortals, a fallen kingdom is rising once more, determined to take back what they believe is theirs through violence and vengeance. And as the shadow of those cursed draws closer, the line between what is forbidden and what is right becomes blurred. Poppy is not only on the verge of losing her heart and being found unworthy by the gods, but also her life when every blood-soaked thread that holds her world together begins to unravel."
Do you have any good book recommendations??