my dorm room, by RB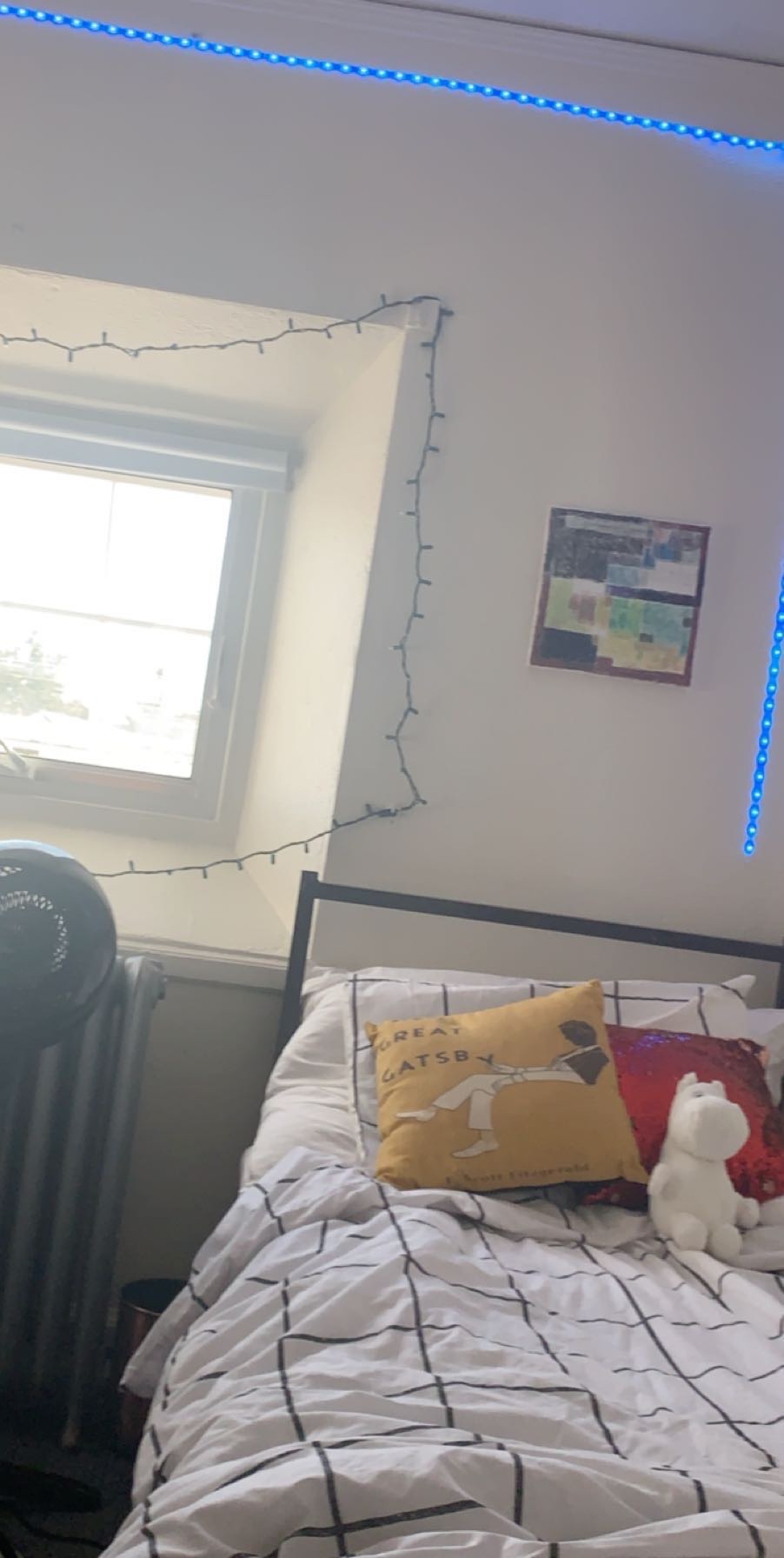 This article was written for yooou! by 16-year-old, RB.
When touring schools, you'll see a well-kept (or fake) room in a nice dorm. Same with any pictures online – one of three official dorm images on my school's website isn't an underclassmen dorm. I was shown a dorm built in 2013, modeled after a hotel. The spacious rooms had an adjustable thermostat on the wall, huge windows, and modern light fixtures illuminating the room.
I prayed to be in the dorm I saw on my tour, and although I was sad I didn't get it at first, I eventually chose to stay in the dorm I was put in this year.
Let me paint a picture of my dorm: the rooms are average size, but my roommate and I got the smallest room on the hall. We had a radiator (whose nighttime banging noises are probably where rumors of a dorm ghost came from). Our dorm is notorious for being the hottest on campus, but we have no thermostats or AC. The windows are also notorious – for being the smallest on campus.
They're no bigger than a square cardboard box. I had the only bed without the traditional high wooden frame, but a low metal frame, so I had no storage under my bed. Exposed water pipes ran across the ceiling. The dorm is up four flights of stairs (no elevator).
The "carpet" is carpet squares stuck on the floor. Once I came back to my room midday and saw two repairmen rip up peeling carpet squares, pour a liquid (presumably glue) on the ground, and slap the squares back down with a few solid hits.
The shower curtains frequently fell down. One time, someone managed to knock down all three curtains (on all three showers) on the same day. It was tradition to grab the curtain rod, put it in a lopsided position, and beat the living hell out of it to hammer it into a spot where it would crookedly stay up.
We had to duct tape the fridge shut because the door wouldn't close and the microwave's interior was coated in a constant layer of crust.
After that you might be thinking, that sounds terrible, why do you want to stay there? And I won't lie, at first it was a little terrible. But quickly, too quick to be Stockholm Syndrome, I grew to adore it.
My house advisors were fantastic. I loved the people and the dorm atmosphere. In the winter, the heat was great against New England cold. So was the noisy radiator. The tiny window looked out to the central hub of campus, so we saw and heard everyone coming and going. My low bed was comfortable, easy to do work in, and envied by many who had to jump into bed. My roommate and I hung capes on the pipes so we could make private spaces. We'd plot new ways to reattach the shower curtains. Friends showered at the same time so no one was stranded with a broken curtain, which was also a good excuse to blast music and take a break from work. Cleaning the microwave was a bonding activity.
All of this was a long-winded way to say having a nice dorm isn't everything. I'd take my dorm over the 2013 dorm no matter how much better the accommodations are. It was also a long intro to my main point: as someone who lived in one of the grimiest (female) underclassmen dorms on campus (and loved it), here's my official list of what you do and don't need to bring to school. 
I know students want to know about decor. Decorating is fun, but you have to keep it small. You have no idea how big your room is going to be, and if you have a roommate, you have to respect their wishes too. Look at Redbubble, AllPosters, Urban Outfitters Home, Target, Bed Bath and Beyond, and Amazon.
I brought posters and throw pillows, but by the time I left campus, my roommate and I had fake plants outside the room, a wreath on the door, LED strip lights, a Christmas garland and fairy lights around the window, a record player, a diffuser, and a snack drawer. My wall was covered in posters and hers was blank, so we projected movies on it.
Note that your room will at first be something to decorate and be seen, but will transform into your cave.
Next I'll go to where parents are thinking: essentials. Sheets and a duvet are a must. Dorm mattresses are rocks, so for your comfort (and back) I recommend a mattress topper. I have the Tempur-Pedic TEMPUR-Topper Supreme 3-Inch Mattress Topper from Bed Bath and Beyond. It's a little expensive, but comfortable, and I can use it in college.
Bring hangers, towels, a robe, and slippers. I had two pairs of slippers: slippers for the dorm, and a pair with a hard sole that can get dirty for leaving the dorm. Shower shoes are a must. I'd get slides, because flip flops disintegrate and shower shoes with holes collect grime.
If you have anything battery powered (calculator, lamp, etc), bring batteries, but your dorm parents/RAs will probably have batteries and the dorm will have a first-aid kit.
Bring tissues if you don't want to use toilet paper, and some bathrooms won't have paper towels to dry your hands (mine didn't). Hand soap is generally given to you. Clorox wipes and a mini-trash can are good when your room gets dirty, especially if you're sharing a bin with a roommate. Diffusers, perfume sticks, or Febreze are good to have.
Personally, I never used my cutlery, plates, etc. I had a set of metal chopsticks I used in the dorm, because mostly I ate in the dining hall or ordered food. Most dorm "kitchens" are a microwave and a fridge (no storage space!), so you can only make instant food.
Desk lamps and scissors are helpful, and although pens, pencils, highlighters, recycled paper products, and a stapler were recommended, I only used pencils.[1] Shoe racks, hair dryers, and a shower caddy are all great. All you should need are essentials, so no need to buy an overstuffed, bulky caddy. Organizers for your drawers keep things tidy. 
The last section is electronics. Bring as many charging cables as you can. You'll either lose them or they'll get stolen. Some schools don't allow extension cords, like mine, so I used power strips. LED/fairy lights are a dorm staple nowadays, but make sure they're not breaking fire codes. My dorm was particular about that (my house advisor once called my room the "wrong example on how to follow fire codes").
At boarding school, personal TVs and microwaves are banned, and only seniors/prefects can have consoles and minifridges. There are exceptions for minifridges; ask your school for more information. As a TV alternative, try a projector, specifically one that runs off your phone. They're compact, portable, and easy to use. I have the Anker Nebula Apollo Wi-Fi Mini Projector from Amazon. A little expensive, but will last like the mattress topper. I used headphones to cancel out dorm noise, and speakers are great for hanging out.
Living in a dorm is an experience, whether it ends up being the best or the worst of your life. For me, I can't wait to go back in the fall. I'm excited for all aspects of dorm life, even when the shower curtains fall down and the ghost opens the fridge door.
[1] My school has an iPad program, so we take all our notes and submit everything online except for tests and quizzes. You should probably bring writing materials, a pencil case, paper, etc, or invest in an iPad.
To read another article by RB, click here.