pumpkin perfect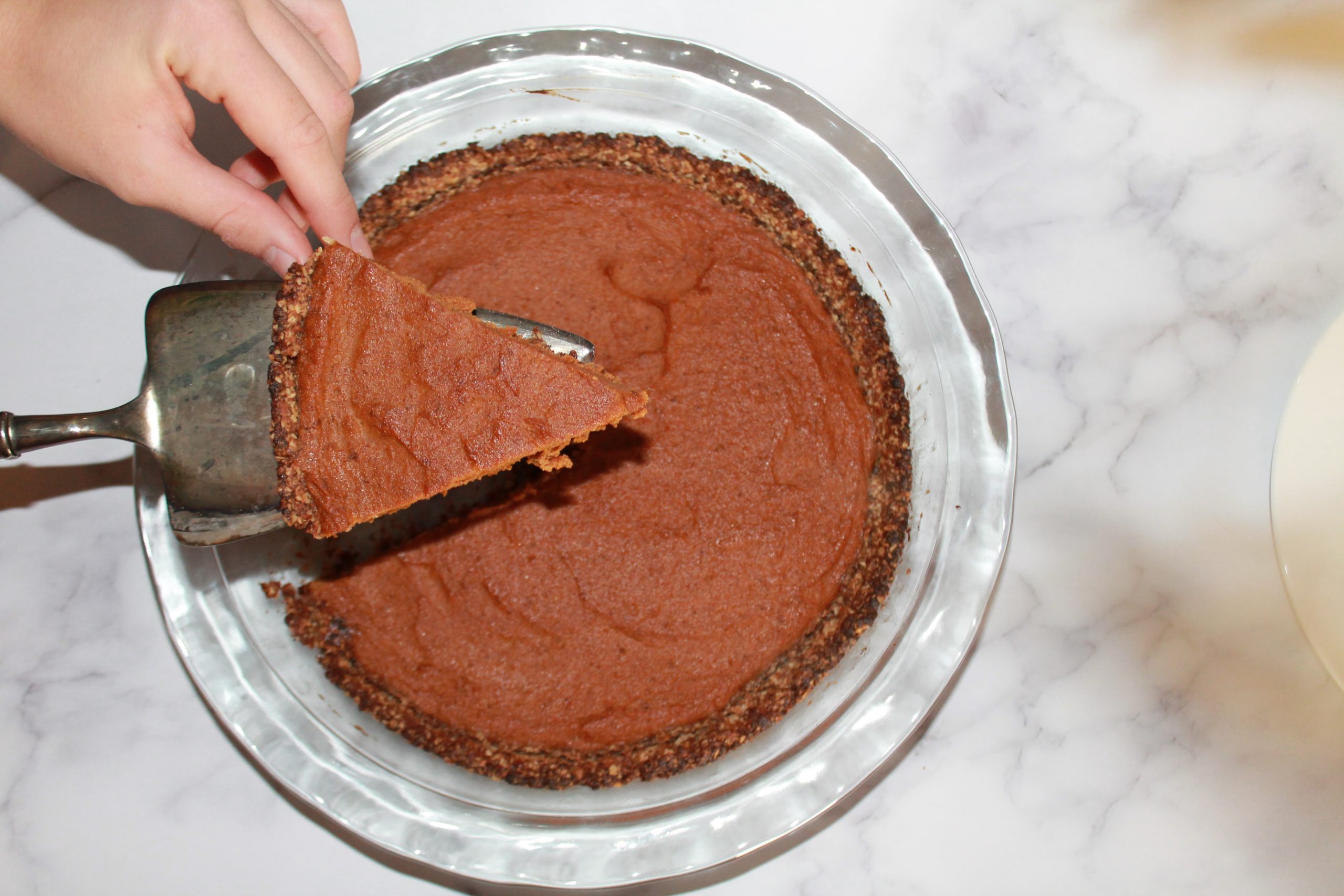 Thanksgiving is just around the corner and in order to get ready, we have some awesome pumpkin recipes. We are The Kitchen Twins and are kind of pumpkin freaks! Pumpkin is so good for you AND delicious. Cooking with pumpkin is fun, messy and creative. We hope you'll pull out your spatulas and try our 3 delicious pumpkin recipes. 
The Kitchen Twins Favorite Pumpkin Recipes:
Addictive Pumpkin Dip
Power Pumpkin Smoothie
The Ultimate Pumpkin Pie (the crust is INSANE Crust)
But first, some stats on pumpkin.
Pumpkin is part of the squash family.
Pumpkin is healthy. (We aren't talking about the spice or a syrup which can make something taste pumpkin-y, but the actual meat/puree that comes out of a pumpkin). It has a ton of Vitamin A, potassium, fiber and Vitamin C. Make sure you buy REAL canned pumpkin not the pie filling – huge difference.
Pumpkin is pretty versatile – it can be made into savory or sweet easily.
Pumpkin is a year round ingredient in many countries around the world – versus in the US where it's seasonal.
Not a stat, but an activity – after Halloween, take a can of gold or silver spray paint and turn your smaller pumpkins or gourds into festive decorations for the holidays by spraying them silver or gold.
Onto the recipes…
Addictive Pumpkin Dip
This recipe actually comes from our family friend, Mrs. Terry's. It tastes like pumpkin pie, but when paired with salty pretzels, crisp apple slices or ginger snaps it transforms your mouth into a holiday festival and you cannot get enough! Literally. We have had this dip every day for the past month after school and we aren't even close to bored of it!
Prep Time: 5 minutes
Serves: 4
Ingredients:
● 1/4 cup softened cream cheese (don't get the low fat it's not good)
● 1 cup pumpkin puree (not pumpkin pie filling)
● 1 tablespoon brown sugar
● 1/4 teaspoon pumpkin pie spice
To Make:
Put all ingredients into a food processor and blend until creamy. So easy!
Enjoy with pretzels, apples, gingersnaps, celery, radishes, etc.

Power Pumpkin Smoothie
This is super simple and if you have leftover pumpkin in fridge it's a great way to use it. This smoothie gives you a great dose of potassium, something we look for when we are playing sports.
Prep Time: 3 minutes
Serves: 1-2
Ingredients:
● 1 cup milk (whatever kind – we're into cashew and almond right now)
● ½ cup pumpkin puree (not the pumpkin pie type)
● ¼ teaspoon pumpkin spice
● 1 ½ super ripe banana (not fully brown but heavily spotted)
● 2 teaspoons maple syrup
● 2 ice cubes
To Make:
Add everything to a blender and blend until super smooth! It's that easy and that delicious!
The Ultimate Pumpkin Pie
Serves: 6
This pie is so good and we just tell you it's healthy so you know you can have 2 helpings! What makes it healthy? It's free of processed sugars and we use whole ingredients. We use dates to sweeten this which makes it perfectly sweet. When we were making this pie, we had a small oven incident that resulted in the fire department coming to our house (during a snowstorm, in November). It was not due to the pie, we promise – we are in a new house and the appliances were overused with all our cooking. We ended up baking it at our neighbors house!
Prep Time: 20 minutes
Cook Time: 40
FOR THE CRUST:
Ingredients:
● 1/2 cup pecans
● 1/2 cup old fashioned rolled oats (not quick oats)
● 3/4 cup packed, pitted dates
● 1 tablespoon melted coconut oil (measure before melting)
FOR THE FILLING:
Ingredients:
● 1/2 cup pitted dates
● 1/3 cup milk (we use almond milk)
● 1 cup pumpkin purée (not pumpkin pie filling)
● 2 eggs
● 1 teaspoon vanilla extract
● 1 tablespoon pumpkin pie spice
● 1/8 teaspoon salt
To Make:
Preheat the oven to 350ºF.
Blend the pecans and oats until semi-fine in a food-processor. Add the dates and process until ground up into (note, dates are sticky, so be patient with these. They help act as the bind and sweetener of the crust). Then add the coconut oil to the food processor and blend until the dough can be pinched to hold its shape, refer to the photos to see. Press your dough, using a spatula or hands, evenly into a greased 9.5 inch pie pan. Pre-bake for 10-12 minutes (pre-bake meaning, you bake the crust before you add the filling). Allow to cool for 10 minutes before adding the filling.
While the crust is baking and cooking, prepare the filling. In a high speed blender or food processor, blend the dates and milk until smooth. (blend until it's smooth you don't want it chunky). Then add the rest of the ingredients and continue to blend until a silky consistency is reached. Pour into the pie crust, but make sure the filling doesn't go over the crust. Bake for 30 minutes, then cool completely. Enjoy with whipped or ice cream or on its own!