swimming to victory, by VC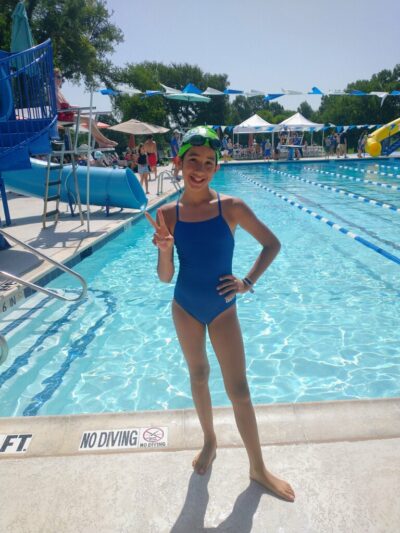 This article was written for yooou! by 10-year-old, VC.
I love the water. To dive into the cool, refreshing water is my favorite thing. I adore swimming. And to be honest, I do think I can go far with it. But of course, nothing comes without a price.
You see, I was on a swim team. A small, fun team organized by our community pool. The team was called The Makos.
Did you know that Makos are the fastest sharks in the world? Our team really tried its best to honor its name this summer.
When I was little, I hated swimming. Now I love it because I've realized I really do have potential especially if I continue to train hard.
We had swim practices from 9:45 A.M. to 10:45 A.M during the entire month of June. After an exhausting hour of practice, we stayed at the pool to play with teammates and neighborhood friends. That was our reward. I always looked forward to practice.
I learned new skills, such as a flip-turn, which is when you swim close to a wall and push off. I learned a stroke called corkscrew, which is when you do one stroke of freestyle, flip to your back and do one backstroke.
We had swimming competitions every weekend at different locations.
I have always been a very competitive person, but in a positive way. I try to succeed in any event I get involved in, which does require a lot of work and practice.
In every single one of my competitions, I've won, except for one. This one time, during a backstroke event, I lifted my head to try to see the wall and I got behind. I had hit my head several times during backstroke practices so I was scared to hit it again during this event. I got second place this time.
I did have some fierce competitors. I respect all of them because I know they practiced hard as well.
I was always nervous before my competitions, and when I told my mother, "No, I'm not as good in backstroke," or, "I need way more practice in butterfly! I'm not doing that stroke!," she would always encourage me to try anyways and she would actually sign me up.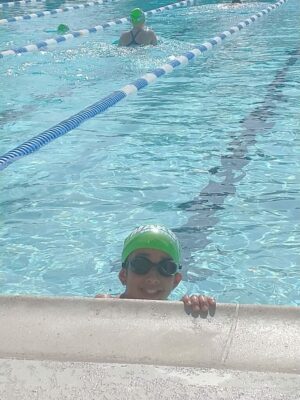 My mother always said "It's better to participate and to get better each time, it's not all about winning, it's about the experience," she was right! I am so thankful for my mother for always being my biggest supporter and for believing in me.
The Makos team had young members from ages 4 all the way to about 14. Even the small kids competed, meaning it doesn't matter what age you are, you can accomplish anything you set your mind to.
After the swimming season was over, we heard about tryouts for another team, The Mustangs. Since I enjoyed swim team so much, I decided to try out. My performance was not flawless, though, I needed some work on my dives, and butterfly stroke, too. I was accepted onto the Bronze team. I was beyond happy and I can't wait to build my way up to Silver, Gold, then Nationals. I was thrilled and relieved when they told me I made it. Of course I was nervous. But I made the team.
I will start my new team practices at the end of August at SMU 3-5 times a week. This was a huge dive into my swimming passion. I would love to make it to the Olympics one day because I really believe I can. But of course, there would be times I would want to quit, feel frustrated, and sometimes break down crying. But no matter what, if you stick with what you love, and have the grit to do it, then just like the ocean, the possibilities are endless.
Love,
Valentina C
If you want to read more about girls in sports, click here.