vistosa candles, by MB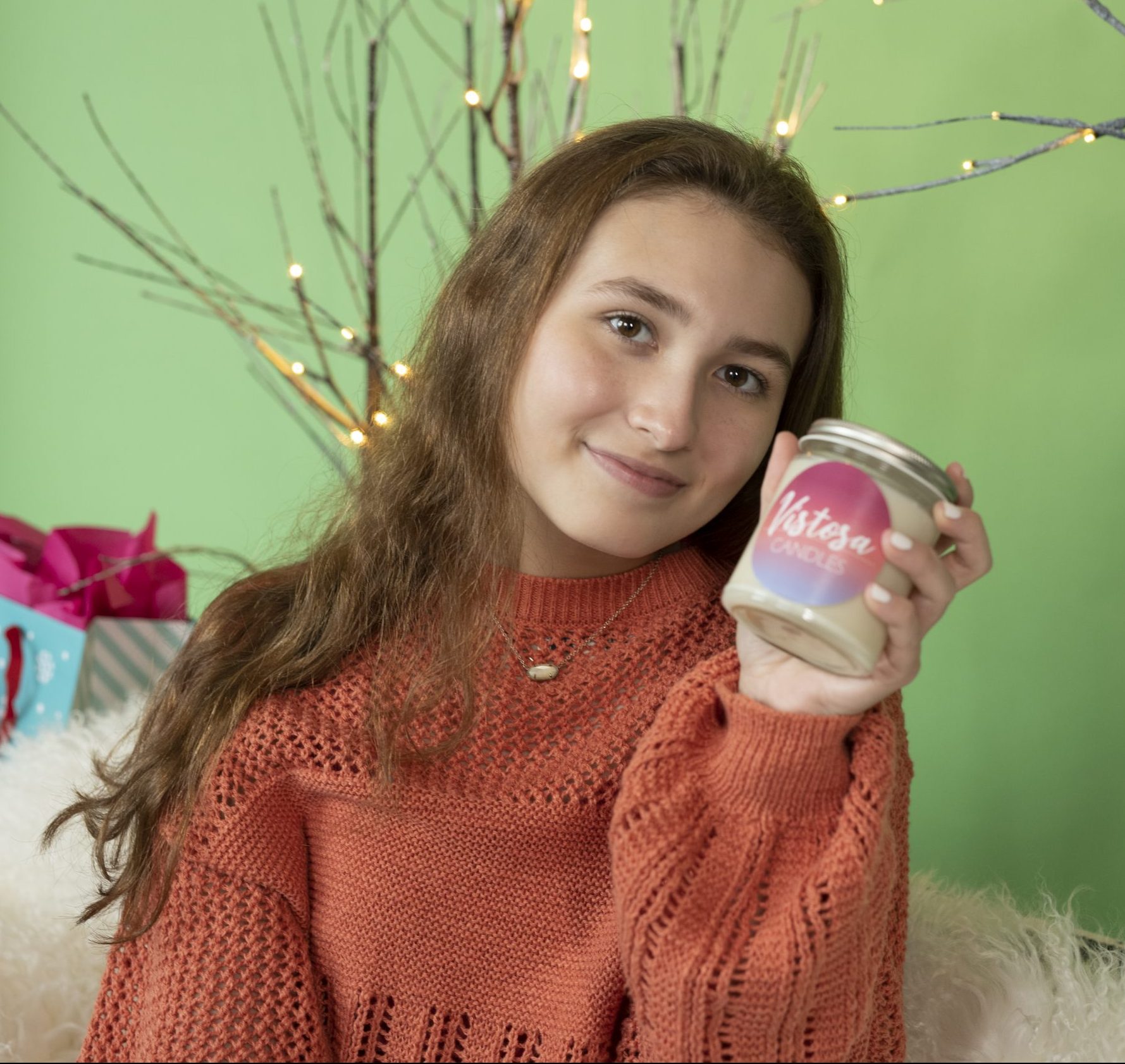 This article is written for yooou! by 14-year-old, MB.
I've always been obsessed with high quality, craft-made candles.  I've collected them for years, and this summer I decided to convert that love into an enterprise, and start a small business. My mom was a great help. We did a lot of research to develop a plan. We had to figure out all kinds of components including wax, wicks, jars, scales, equipment, labels, and lots of fragrance oils. I had to then figure out which scents go well together, and I definitely found some that didn't. For example, combining the scents of leather and grass produces the smell of a dirty boot!  
I had no idea that there was an entire science behind what goes into making a candle; the terms 'hot throw', 'cold throw', 'frosting', and 'fragrance notes' confused me at first, but I eventually figured it out. Although making a candle sounds somewhat easy, I've also discovered that there's a lot that could go wrong. There've been times where I put the wrong amount of oil in, or had to rush because I forgot to prepare a jar to pour the wax into.  I design all my own labels, and am sure to make them something special.
The name of my company is Vistosa Candles. The word "Vistosa" is Spanish for fragrant or eye catching, and that's what I try to bring to my candles.
Through this experience I've also learned about dealing with money and making transactions with customers, which I think is a valuable skill to learn at this age. Another part of my business that I love is that every month, I take $1 from every candle sold in that month, and donate the amount to a local charity. For the month of September, I donated to a friend's non-profit charity, Feed the People, and in October, I donated to the El Paso Food Bank to help those impacted by the pandemic, and to Children at Risk in November.
I must admit that it has been challenging to keep up with orders during the school year; however I'm very passionate about my business, and strive for the very best quality. I was very flattered when yooou! offered to include my candles in the gift box! I'm so excited to be a part of what they're doing and am very thankful that they reached out.
So far this experience has been extremely fun, and I love bringing flickers of joy to my customers!
Go to Vistosa Candles on Instagram to learn more about MB's amazing candles. They make fabulous holiday gifts! DM her with questions or an order.
MB is one of our two "teenpreneurs" who have their product in our yooou! Winter subscription box. Don't miss "Creative Enhancements, by DM" written by our other "teenpreneur".
Click here to learn more about the yooou! Winter subscription box and the other contents. If you order by December 15, you will receive it by Christmas.