making memories at camp, by MC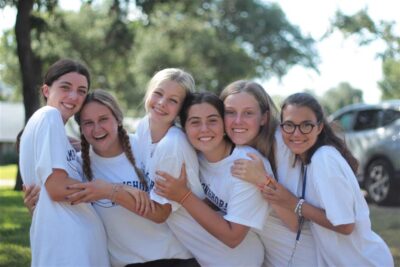 This article was written for yooou! by 16-year-old, MC.
When my entire cabin planned to tump our boats at the same time…
During sail, my cabin came up with a plan to all tump our boats at the same time. We made up a call to make sure everyone knew when to tump. But unfortunately our plan didn't work because we couldn't hear since we were so far away from each other. What actually ended up happening was a ripple effect of watching one boat go down then another and another till we were all down. It was really funny watching everyone try to tump their boats and frantically try to get them up again.
Watching Alexis jump and roll through the mud because she didn't think she was muddy enough…
During Marina Mud, Alexis told the officers she didn't feel muddy enough, even though mud was poured on our heads and we just did a skit in the mud. She was yelled at by the officers to go jump in the mud and roll around in it by herself. It was so funny but she had mud stuck in her ears for days and eventually had to go to Pit to get it out.
Watching Eden catch a catfish with string and Cheez-its…
During quiet time Eden decided to try and catch a catfish with string and Cheez-its she had from refreshments the day before. She actually caught one but since it was quiet time she couldn't yell to tell us she caught it so she opened the cabin door and was silently screaming at us to look at what she caught.
Pranking Zoro so hard that it got brought up at the counselor meeting…
It was my cabin's Seagull year at camp and we had Coco Robertson (wife of the director's son) as our counselor. We always stayed up late, so one night with the help of Coco we pranked Zoro by hanging stuff from the ceiling and taking a polaroid of Zoro when he walked in. After we pranked Zoro we went to bed but forgot to take down our prank so Bedcheck walked into the prank in the middle of the night. The next day we found out that our prank was brought up at the counselor meeting to make sure no other campers pranked Zoro.
Deciding our counselor's name was now Cheeto instead of Catherine…
Marina year we had Catherine M as our counselor, in the beginning of the term Ella offered her Cheetos and she wouldn't eat them, so Ella started calling her Cheeto. Eventually that became her name to all of us and it still is.
I can't wait to go to camp this year!!
You should read MC's other posts! Click here and here! And click here to follow her posts on Insta!